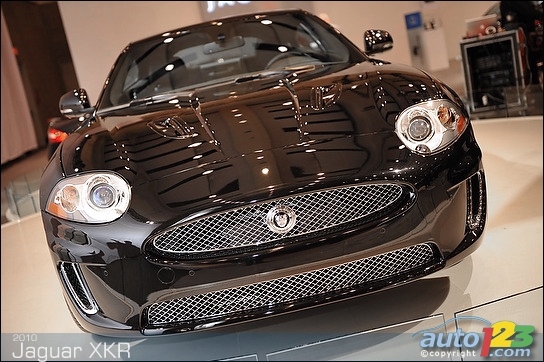 Jaguar XKR (2010)
Jaguar XKR (2010)
Jaguar XKR (2010)
Jaguar XKR (2010)
Jaguar XKR (2010)
The new Jaguar XKR is a sophisticated grand tourer with the heart of a true sports car, combining effortless high-performance and state-of-the-art V8 powertrains with a new level of advanced technologies, intuitive control and Jaguar's superbly crafted, new-fashioned luxury interiors. The range comprises naturally aspirated XK and supercharged Jaguar XKR models, available in 2+2 coupe or convertible body styles.

All-new AJ-V8 Gen III 5.0-litre direct-injection engines bring significant improvements in power and torque and they do so without compromising fuel economy and emissions. In both respects, every model in the new XK range, in spite of such large performance and flexibility gains across the board, is comparable to their predecessors.

The impressive fuel economy for such powerful cars is attributable to the combination of the XK range's lowest-in-class weight and the all-new AJ-V8 Gen III engines. As well as the intrinsic advantages of the engines' light weight, these advanced all-aluminium four-cam power units have a number of features that deliver power with very high efficiency, including spray-guided direct injection (SGDI), which improves performance and economy, and dual independent variable cam timing (DIVCT), which benefits performance and economy, while also reducing emissions.